Radiologists often look for biomarkers in medical imagery: features that help diagnose a disease and monitor its progression. A time-consuming activity that is largely based on semi-quantitative measurement methods. This makes interpretation quite subjective and potentially inconsistent which leads to so-called 'interobserver variability'. The machine learning algorithms developed by researchers at Quantib can 'recognise' various regions of the brain based on 3D imagery and calculate the volumes of each region. As such, Quantib® ND (derived from neurodegenerative) supports radiologists in their interpretation of MRI brain scans. The software measures loss of volume (atrophy) in brain structures and detects so-called white matter hyperintensities. These changes in the brain are visible in MRI imagery and are related to factors such as ageing, dementia and multiple sclerosis (MS). So-called percentile curves offer an intuitive tool to compare the brain volume of a patient with a healthy reference population. As such, Quantib ND facilitates even faster detection of tissue changes than the naked eye is capable of, with the aim of supporting and objectifying the diagnostic process. Quantib® ND is being used at Erasmus MC in Rotterdam, among others.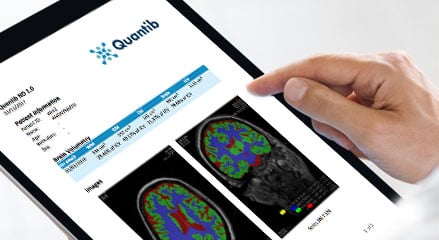 Development & implementation
Erasmus MC had been researching new imagery processing methods based on machine learning and deep learning for years. Almar van Loon, Customer Success Director at Quantib: "In 2012, Quantib was founded as a spin-off from Erasmus MC with the aim of ensuring that developed algorithms penetrate clinical practice". The relationship with Erasmus MC was quickly established but it took until 2018 before Quantib® ND became CE certified and could be deployed as a medical device in clinical practice.
The implementation started with demonstrations and test runs with data from their own organisation in order to demonstrate the added value of Quantib® ND and remove initial scepticism. Next, they could proceed to install the software in close collaboration with the organisation via a kick-off meeting with the most important stakeholders. Van Loon: "It is important to manage expectations properly. Time is scarce in healthcare, partially due to increasing staff shortages. Such innovation projects are rarely prioritised from an IT point of view. Asking too much of people only creates resistance. You need to make sure that people feel responsible for (parts of) the implementation." The installation process was completed with end-to-end testing to see whether the connection between Quantib® ND and other (image-processing) systems worked as intended. Next, training sessions were organised at Erasmus MC for end-users and other stakeholders, such as radiologists and neurologists. "Although the application is geared towards medical imaging, it is important to involve clinical practice and experience to gather how the innovation affects the everyday work process. In an average healthcare institution, a large number of different stakeholders are involved in the everyday work process, each with their own activities and needs. They should all be included. Plus, the benefits and costs do not necessarily play out within the same discipline", says van Loon.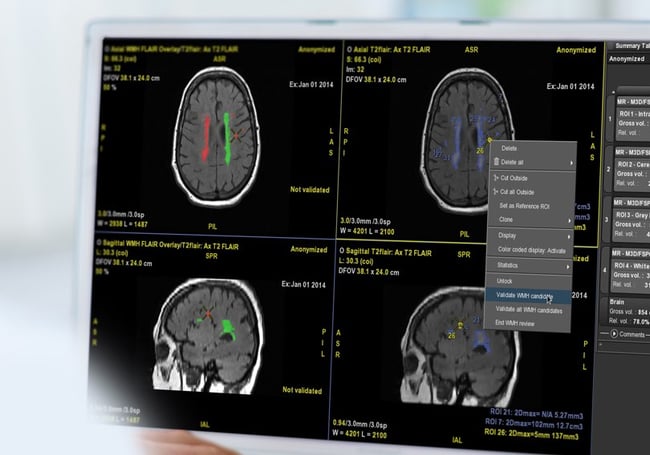 Erasmus MC is very enthusiastic about the application. John van Swieten, a dementia genetics professor at Erasmus MC, explains: "Quantib® ND clearly enables constructive multidisciplinary deliberation to the benefit of efficient decision-making. It offers an extensive overview of imaging results and compares results with a normative database. This improves the quality of healthcare we can offer our patients." "Quantib helps improve trust in the radiologist's and neurologist's diagnosis. To me, the software is really part of the team", Harro Seelaar, a neurologist at Erasmus MC adds. Today, Quantib® is being used by dozens of other healthcare institutions all across the globe. "Thanks to the lessons learned in the first implementation projects, we now have a blueprint that can be adjusted where necessary to realise an implementation as efficiently as possible while adapting to the needs of that specific healthcare institution", says van Loon.
The future
Quantib will continue to focus on scaling and continuous development of their products and services in the future. In doing so, they are expressly guided by the needs of the end user and feedback from clinical practice. Quantib set up an internal User Experience team to ensure that the engineering process revolves around the end user. But large-scale deployment of AI-based applications is still facing some challenges. Van Loon: "In order to improve the reliability of the algorithms, we need to make sure that the quality of data and scans, which form the input for the algorithms, are standardised. We need to continue to invest in developing more evidence from clinical practice in order to demonstrate the added value. And legal frameworks need to be developed to provide clarity on the application of the technology. Because if the algorithm makes a mistake, who is responsible? Finally, we need to review how such technologies are being funded. In Europe, they tend to be treated as separate investments. But in the US, so-called 'reimbursement codes' have been developed where the insurer covers the deployment of such solutions. This puts them ahead of Europe, for example". With the steps that are currently being taken in healthcare, Van Loon expects a much more quantitative and predictive diagnostic process in radiology 10-15 years from now thanks to the deployment of AI without radiologists losing their pivotal role.